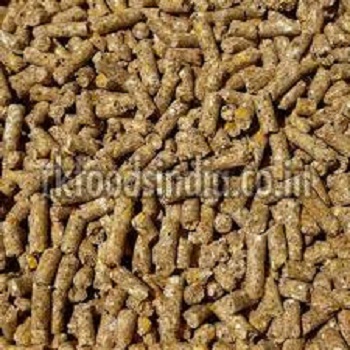 As per the research & info, there is a huge production of poultry and other livestock in Punjab. Fresh Cattle Feed Pellets Punjab have been the specific diet for animal farming for a list of reasons:

• It prevents the animals to become bulky,
• We can automatically classify the animal food very well,
• The investor will have a huge return in the market,
• The feed has good fluidity,
• Moreover, it is not prone to any harmful virus as Salmonella.

We have witnessed a significant broilers chicken production in Punjab by the virtue of Fresh Cattle Feed Pellets Manufacturer Kapurthala. Compared to mash or any other food crops, feed pellets have put little time to consume and digest by poultries. It is available in the market at nominal prices as well.

For cows or any other domestic animal farming, you will observe a positive change in eating time and palatability. This feed is not wasted as it can be used for any cattle. Instead of another course of meals, it is easily consumed by the animals.

Quality of Fresh Feed Pellets:

The pellets are grains made with organic protein and fiber-rich food. It is used for multi purpose operations where there is no risk involved in packaging, transportation, storage, and any other means.

Its quality is measure with its durability index after removing the fine grains. Hence, you may observe the effectiveness of the remaining samples. The calculation of PDI is very easy as you need to find the percentage of intact pellets post tumbling in the whole pallet grains.

It is usually measured with the help of a tumbling can device. Other listed equipment are wood detectors, Holman detectors for grain particles, and many others.

The formula of Feed Pellet Mixing:

Some ingredients must be added to the Fresh Cattle Feed Pellets for their quality improvement. But soybean or corn is not the perfect mixing in the feed pellet.

Wheat and its subparts are very effective to raise its durability index as it is rich in protein & hemicellulose. You may also place oatmeal instead of corn. The beneficial ingredients in the feed pellets are wheat, barley, oats, sorghum, and corn.

Starch must be there to achieve the optimum quality. As per a recent investigation of food & safety, protein-rich components are highly invoked instead of starch for having fruitful animal farming.

You should not add oil unless you are doing any pet food or fish production. The addition of some surfactants and binders would improve the yield and quality of the food as well as the energy.

Some Fresh Cattle Feed Pellets Supplier highly focuses on having fine grains in the feed. But it may not be recommended as there should be any compromise in the overall advantages of this food. Do not directly smash or decompose it, rather apply some gentle method to keep the particles raw and simple for the domestic animals. Keep the important considerations in mind while mixing the particles in the fed pellet.

For more facts about feed pellets in Punjab, you may find some useful articles.