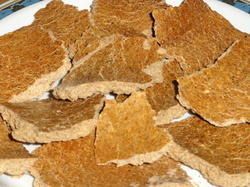 The germs of corn, i.e., maize is used for the extraction of maize oil. This maize oil can either be directly used or made into the cake for feeding the cattle. It is very rich in nutrition and provides the cattle with the required amount of proteins for their everyday diet. Not just proteins, maize oil cakes are also a very good alternative for fulfilling the daily fat requirements of the cattle feed. These cakes also have calcium, dietary fiber, and various other nutrients. One can easily buy maize oil cakes from the leading maize oil cake supplier in Punjab, Haryana, Delhi or any other place for feeding their cattle. When buying these cakes from the maize oil cake manufacturer in Kapurthala, one should always look for some specifications to ensure supreme quality. So, if you are planning to buy maize oil cakes as your cattle feed, here are key specifications that you can definitely check.
Color: The color of the maize oil cakes tell a lot about the quality of the cake that you are getting. If you are consulting a maize oil cake supplier to get your oil cake, ensure that it is brown color. One might find some suppliers offering very dark brown or either dark yellowish maize oil cake, do not buy it. Ensure that it is a very vibrant brown for supreme quality.
Protein Content: The protein content of the maize oil cake is also something that you should definitely check in order to get the best quality and nutrition-rich cakes. The protein composition of some really good cakes is 15% to 18%.
Artificial Flavors: One should always ensure that the cakes that they are offering do not have any artificial flavors in it. It should always have natural taste and flavors of maize oil so that the cattle feed does not deteriorate in quality or flavors.
Preservatives: Many maize oil suppliers might be in the habit of adding preservatives in their maize oil cakes to ensure that they stay the same quality for a longer time. However, you should always go for the suppliers that promise to no add any type of preservatives in their maize oil cakes.
BENEFITS OF MAIZE OIL CAKES
Maize oil cakes are known to be having a number of benefits for the cattle feed. They have the capacity to increase the mail fat of the cattle that consume it by around a huge percentage. The animals that consume cakes are known to become more energetic. Not just that, animals can also have early pregnancy due to the high fatty oil content.
You can easily turn to the maize oil cake manufacturers and suppliers to get the best quality cakes at affordable prices. These maize oil cakes can be added to your cattle feed and ensure that your cattle would have a sufficient amount of nutrition required for good quality products and their perfect health as well. Make sure to check the specifications of the cakes to enjoy the benefits that these cakes can bring for you and your cattle.