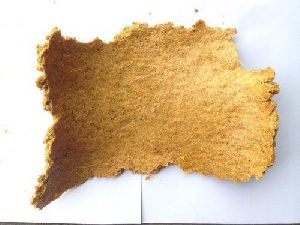 The demand for maize oil cake from a Maize Oil Cake Supplier Punjab has been fueled by the rise in dairy and cattle consumption. The animal feed contains corn oil cake. It is produced as a by-product of the industrial processing of maize oil.
Since corn oil cake is a strong source of nutrients that support healthy nutrition and metabolism, it is utilised as a dietary fibre for herds and cattle. Corn oil cake is frequently used as ruminant feed since it has a high fibre content. During the forecast period, these factors are anticipated to propel the market. The consistency of the minerals and proteins in corn oil cake serves to support the animals' flexibility. According to the animal's needs for developing and reproducing, corn oil cake is supplemented in varying amounts in the animal's feed with cereals like barley, wheat, sorghum, etc. In turn, this increases demand for maize oil cake on the international market.
Additionally, meat and poultry consumption is rising globally. The poultry and livestock industries are luring more and more investors. In the upcoming years, this will further fuel the market for maize oil cakes.
Increase in Demand Accelerates Market Growth -
-A sufficient number of proteins, carbohydrates, fibre, and lipids are present in corn oil. Therefore, corn oil cake is an excellent alternative to conventional animal meals.
-Additionally, the farmers are being forced to search for a less expensive and secure alternative to animal feed due to the ongoing price increases of common animal feed ingredients like cereal grains, protein meals, etc.
-Corn oil cake costs less than other standard feed ingredients since it is a by-product of the manufacturing of corn oil. The market for maize oil cakes will grow as a result of this aspect.
-The rising demand for maize oil cake around the world is largely due to an increase in the consumption of cattle in recent years. High-quality protein and critical micronutrients like iron, zinc, and vitamin A are found in livestock products like milk, meat, and other dairy products.
-The main producers are concentrating on creating a variety of maize oil cakes that satisfy the varied nutritional and health needs of the animals. During the projected timeframe, all of these factors are predicted to favourably impact the corn oil cake industry in terms of value and volume.
Maize Oil Cake Benefits:
The Expeller method is used to create two products, maize oil and maize oil cake, from the maize germ, which is a rich resource of fat or oil content. Maize oil cake is a nutrient-dense source that is utilised as a concentrate component in the feed for dairy cattle.
-Increases milk fat content
Animals will receive their energy from higher oil content.
-Vitamin E, which is extremely helpful in dairy cattle reproduction, is included in the maize oil cake. Other cakes like cotton seed cake, ground nut cake, chuni, or korma often have lower levels of vitamin E.
-Given that the crude fibre level is only 8 to 10%, it is easily digestible.
-Increases animal health and disease resistance capacity
-The majority of the oil's fatty acids are unsaturated, which will benefit the animals' early stages of pregnancy.
Due to its high-quality proteins, starch, and starch content as well as its use as fertiliser, oil cake from a Maize Oil Cake Supplier Punjab is becoming popular in different industries. The development in the livestock and poultry businesses has also expanded as a result of the rise in meat consumption.